Space City Panteras' Texas World Speedway track event #3



Space City Panteras of Houston hosted their third track event on February 24-25, 2001 at Texas World Speedway near College Station, TX along with The Driver's Edge.

We had a total of 14 Panteras at the event along with other folks just visiting. The rain on Saturday had something to do with that... I've never driven on the track with my wipers on before...

It also scrubbed our planned concours event during lunch on Saturday, but the clouds parted just in time and long enough to take a great picture on the banked straightaway!


(click on the picture for a larger view)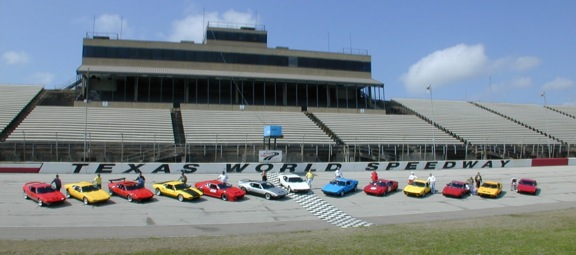 From left to right, owners are:
Nick Sakulenski, Dennis Jones, Gary Hall, Fred Hall, Jack Tunnell, Kirby Schrader, Jim Narum, Dennis Coffman, Tom Upton race car, Gray Gregory street car, Tom Upton street car, John Taphorn, and David Bell. So where's that 14th car? Well.... Gray Gregory forgot about his race car and left it in the pits! And well... what can I say... the reds and yellows were the majority at the event this time!

And after the pictures, an impromptu foot race began! The
REAL race
took place!

Sunday was great! Beautiful day! Clear skies, fast track and people having fun. I don't think anyone walked, drove or crawled away from the event without a big smile on their face! And nobody to my knowledge broke. All the folks who drove to the track drove home.

-- Panteras and other friends of Pantera folks running in the various groups were:


1 John Taphorn Pantera #111
2 Kirby Schrader Pantera #112
3 Dennis Antenucci Pantera (Gray's street car) #69
4 Tom Upton Pantera #77
5 Fred Hall Pantera GTS (Screamin' Chiquita) #79
6 David Bell Pantera (new engine) #777
7 Jack Tunnell Pantera (with his EFI and rebuilt brakes) #458
8 Nick Sakulenski Pantera (with all kinds of new stuff!) #31
9 Dennis Coffman Pantera #174
10 Gary Hall Pantera

11 Gray Gregory Ferrari 550 Maranello and race car #57
12 Michael Pence Porsche Boxster S #7
13 Bob Pitaro Corvette #29
14 Keith Verges Viper (Pantera is waiting on parts)
15 Dylan Schrader 97 Cobra #12
16 Laura Rowley Honda S2000 #1


In addition to the above drivers and cars, others attending the event were:

Mark Krivanek and his father came as spectators, but they have a Long and Newman Pantera! The came to look at other Panteras and hoped to figure out what all to plan for on their car.
Mark said afterwards: "My Dad and I had a great time and really enjoyed all the hospitality we received!"

Mike Trusty came from Arkansas. He claims he'll have his car with him for sure next time! We'll believe it when we see it, Mike! :-))))))

Mike Drew (you can read his
humorous reports
and some
pictures
.

Make sure you also read David Bell's
The Perfect Lap
William King, Jim Narum, Dennis Jones (with his recently re-assembled yellow beauty!), Matt Bradley (Future Pantera owner from Dallas/Oklahoma). Stokey Hamberg and some others I'm sure I've forgotten at this point...

Most people stayed at the Manor House Hotel (the 'usual' place) in College Station and some stayed at the nearby Days Inn.

There were four 'run groups' again based loosely on experience with the Green and Blue groups running with instructors. Green group was for drivers who had no track experience, Blue group was for those who had some experience, Yellow was for those who had more experience and Red was for the experienced. I was put into red group for the first time...

Saturday night, we all got together at T-bone Jones (a recommended steak house) on University Drive at 7:00pm. We had a nice U-shaped table and plenty of room.

The previous weekend, we got together at Gray Gregory's place outside Brookshire on Saturday for a tech session/tech inspection/bench racing get together. Attendees were David Bell, Gray Gregory, Bob Pitaro, Jim Narum, Rob West, John Taphorn and Kirby Schrader.

For the rest of the pictures, you'll find them
here