2011 Space City Panteras Annual Pig Roast

Thanks go to:

- John Taphorn, our 'organizzatore straordinario', who made it all happen

- Gray Gregory for being the gracious host for the club's event

- Kirk Evans for joining us, installing three of his light kits in one day and showing pictures of the Pantera that could have been

- and everyone for coming!

Our long distance winners are:
Lori from California
Kirk from Ohio
Jeff from Dallas

We had new members with cars we'd not seen before, we had horse riding, we had 18 Panteras and a Mangusta.
The club still has some cars 'in progress', so next year there should be even more on hand.
I humbly predict that next year will certainly have as many cars and people, if not more.

Best count was around 50 guests. Some folks arrived on Friday and helped get the pork going and kept an eye on it.

Based on John's list, attendees:
Gray Gregory, John & Mary Taphorn, Rob & Christine Pink, John & Beth Haas and family, Kirby, Cynthia and Heidi Schrader, Bill & Meddy Vasser, Doug Lockin, Orville Burg, Steve Hawkins, Bill & Marilyn Lewis, David & Marilyn Bell, Gary & Sylvia Bartley, Harry Glauser, Will & Susan Kooiman and Max, Steve & Debra Sweeney, Brian & Anna Hill, Kirk Evans, Wally and Tedi Meyer, Mark & Candie Pinson, Bill Fraser, Jeff Detrich, Dave Tompkins, Ed Nagel and his wife, Tom Upton, Phil Tomlinson, Konrad Szwab and friend, Lori Albino.
(corrections to list are welcome!)

Panorama pictures of the cars, the cars and owners, the whole SCP clan and horse riders are below.
(please click on the pictures for high resolution versions)

More pictures taken of the cars, the 'clan' and headlight modifications by Bill Vasser are here.
Pictures by John Taphorn are here

The cars!





The 'clan' and cars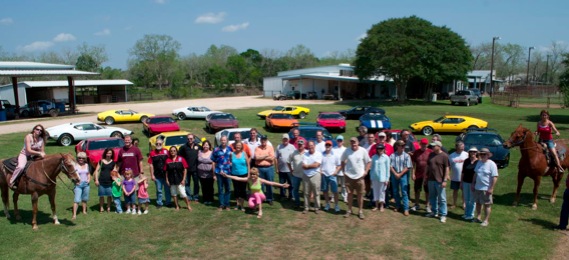 The cars and their owners





The horse riders, Heidi and Lori.